Small Biz Owners: Ace That Media Interview with These 5 tips
As a small business owner, the odds are likely that at some point in your position, you'll be approached for a media interview.  This could be anything from an influential trade journal requesting your  viewpoint on a particular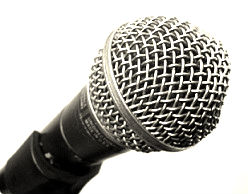 market segment within your industry, to a local television news show wanting to cover a milestone of your family owned business. Either way, it can be a terrific opportunity to generate positive brand awareness and showcase your expertise.  Unless an interview request is surrounding a tragedy or has a negative slant, I typically encourage my clients to talk to the media.
Note that in this article, we are not talking about a hostile type of interview akin to the one depicted in the funny, fictitious SNL skit starring Martin Short as a sweaty, chain-smoking oil lobbyist nervously dodging very tough interview questions from Robert Kennedy Jr. (see the hilarious clip here: http://bit.ly/uZX4X ).  That genre of interviews requires much more thorough and intense preparation (though you can check out a prior post on "Preparing for a Crisis" here: http://bit.ly/13OyafA ).
For this purpose, we will focus on the instances when the media wants your point of view on a newsworthy topic related to your area of expertise.  We see this often – an obvious example of this is when James Gandolfini died recently from a heart attack and local and national news outlets scrambled to get cardiologists to interview and explain the causes and symptoms of heart attacks. Another type of media request might come because your industry's top trade magazine wants your point of view as they write a feature article on a broader topic. In any case, whatever the reason you're speaking to the media, it's important to be prepared so that your message is clearly and appropriately communicated.
Following these 5 simple tips can make a world of difference in how your interview turns out.
1.  Familiarize Yourself with that Show or Publication
You don't necessarily have to be an avid viewer of CNBC's "Squawk Box," but if you're booked on it,  do try to watch a few shows in advance to get a flavor for the format as well as to see how the hosts interact with their guests.  This also helps in not calling the host by the wrong name, which once happened with one of my clients.
The same goes true with trade journals – take a peek at some past articles written by the reporter with whom you'll be speaking so that you may familiarize yourself with that publication's format so that you may then provide your expertise in that genre.  Reporters typically respond more favorably when they know you took the time to understand their material.
2. Whenever possible, find out the topic you will be asked to discuss
Be sure that you clearly understand the topic and angle you'll be asked to comment on so that you may prepare accordingly.   Most reporters will provide this to you (in the case of a non-hostile type of interview of course). In the case of trade publications, the interviews are usually scheduled a few days or weeks in advance, giving you time to prepare.  Be sure to use that time to develop your key messaging points as well as pull any research statistics that would help drive home your point.
3.  Prep & Practice
Your interview is scheduled so now you and your team can develop your key messaging points.  For example, if your company is announcing a special partnership with a non-profit organization, prepare to explain how your company is getting involved with this particular charity, why it's relevant and the benefit to the audience.  Know your elevator speech and any other important statistics you want to convey and be sure to keep all of your talking points short and succinct. If the interview is a broadcast one, go ahead and ask a colleague to help you practice by acting the interviewer.
4.  Relax and Be Yourself
Yes, it's nervewracking.  Of course you want to make sure you know your stuff and don't stumble over your words.  However, realize that you are being interviewed because you are an expert at something.  This alone should give you the confidence to  help you to stay unfettered and do your thing.
Do whatever it takes to keep your voice calm and steady in the minutes before the interview (deep breaths, clear your throat, etc.).  If you interviewer partakes in light banter before the start of the interview, by all means be congenial with him or her in order to build rapport.  While it is a nice surprise to discover you both went to the same small college in New England, don't let that trip down memory lane distract you too much from your task at hand.
Also, know that anything you say is usually fair game.  Some journalists adhere to the 'off the record' notion; others do not.  I always caution my clients to choose all of their words wisely.
In the interview, if you're asked a question and you don't know that answer, don't try to make up something and ramble on.  It's best to say you don't know the answer but will find out and move on.  This then provides you with a reason to later contact the interviewer, which leads to the next tip.
5.  Be grateful and patient
After the interview, thank the interviewer and let them know you'll follow-up on anything you promised to provide them.  Don't ask them if you can see their story before its published which is often insulting to most media – although there are instances with trade publications where they will let you see it beforehand to make sure the facts are straight.
You may ask for a general time frame of when the article or program will appear.  If they don't have a specific date, follow up once in a couple of weeks, but do not badger them – sometimes stories don't make the cut or get pushed back for a variety of reasons including more pressing news or the fact that an editor wants to save the article for a bigger series or industry feature.
Once the article comes out, try not to nit-pick too much.  Unless something is a flat-out error, don't complain about style issues or words you'd rather have attributed to you.  If you generally are pleased, go ahead and send a quick email thanking the reporter and offering your expertise in the future.  See, that was easy, wasn't it? Now go ahead and give yourself a big pat on the back!
Remember, relationships with the media can be mutually beneficial.  You are providing them with the expertise they are looking for, and they are capturing that expertise to help you bring awareness and credibility to your brand.  Go get 'em!