When Praising a Woman's Appearance is NOT a Compliment, but a Ploy
Last week, a US Congressman got his creep on during an interview about the shutdown when he prefaced his response to a CNN host by complimenting her beauty – TWICE.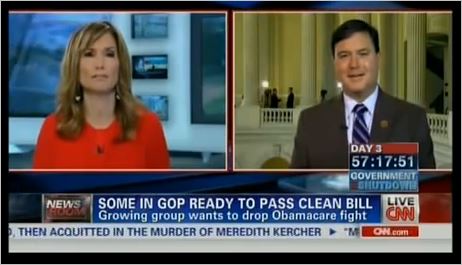 [Disclaimer: this is a non-partisan blog post and has absolutely NOTHING to do with politics –   so please don't turn this into a political left versus right thing.  It just happens that the occurrence I'm showcasing took place during a political interview].
Early in a television interview on Thursday, October 2, Rep. Todd Rokita managed to objectify CNN's Carol Costello, an accomplished journalist, in his response to her question about Congress accepting pay during the shutdown:
"What we're fighting for at the end of the day, Carol — I don't know if you have children yet, or I'm sure you don't have grandchildren yet, you look much too young — but we're fighting for them," said Rokita.
Ms. Costello maintained her professionalism and proceeded on with the interview that was also peppered with Rokita repeating her name at least a dozen times and at one point, rebutting one of her points by simply repeating the phrase "Seriously Carol?" four times in a row.
The debate then became heated when Costello suggested the fight for Obamacare should be independent of the government shutdown battle.  Again, Rokita attempted to diminish the intelligence and credibility of a seasoned journalist by drawing attention to and praising her appearance.
"Carol, you're part of the problem.  "The media is the problem as well," he said.  As Costello protested, he shot back, ""Carol, you're beautiful, but you have to be honest as well."
Costello replied firmly, "Okay, I think we should leave it here" and ended the interview.
Costello has remained tight-lipped since the incident. But in a statement Thursday afternoon, Rokita said, "At the end of a spirited and very important debate, I was simply keeping it from unnecessarily ending in an unfriendly or contentious way. I intended no offense to Ms. Costello."
Seriously Todd? Seriously Todd? Seriously Todd? Seriously Todd?
See the clip here: http://www.youtube.com/watch?v=Ag5AMqve5ZU